Providing the skills, confidence and inspiration to make a difference!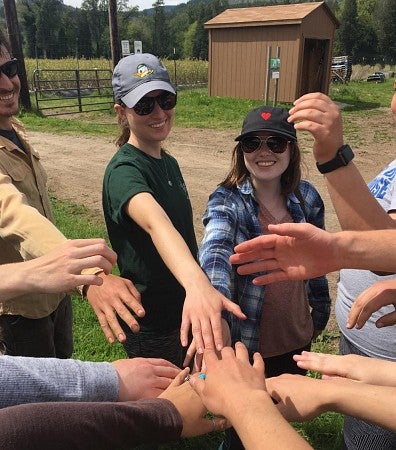 The Environmental Leadership Program is an interdisciplinary community-based learning program that matches student teams with non-profit organizations, government agencies and businesses to address community-defined environmental issues. With the overarching objective of developing reciprocal and mutually-beneficial partnerships between students and community organizations, our goals are to provide:
Our goals are to provide:
Undergraduate students with unique and practical learning experiences that develop their professional, leadership, technical, problem-solving, collaboration, and communication experience and skills;
Graduate students with project management, mentoring, and team-building experience and skills; and
Organizations with high-quality services that further their missions.
Our projects take place primarily on the traditional homelands of the Kalapuya peoples. We recognize this land acknowledgement is just a starting place–an invitation for us to consider what our settler-colonial history means for our pedagogical practices and our community-based work, as well as inspiration to redouble our efforts to develop courses and community-based projects that promote environmental and social justice.
---
Projects 
We develop our projects cooperatively with community partners. Depending on partners' needs, projects can address environmental education and outreach, natural resource management, habitat restoration, species conservation, environmental monitoring, sustainable business practices, ecotourism, recreation management, environmental justice, and other topics. 
Currently, we have four primary focal areas. 
In our Conservation Science in Action projects, students assist community partners by completing hands-on restoration projects, creating assessments and management plans, or acquiring and analyzing needed environmental data.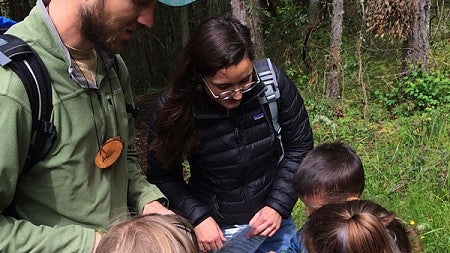 In our Environmental Education projects, students develop, implement, and share transformative learning experiences for children in nature. Students create scientifically rigorous curricula, teach programs in classrooms and conduct field trip activities.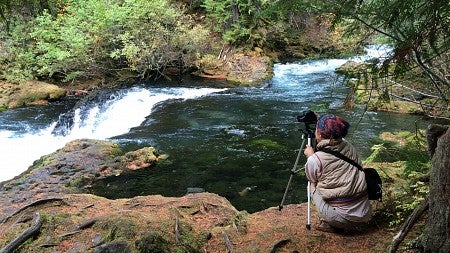 In our Community Engagement and Justice projects, students work directly with communities to address our pressing environmental and social justice issues. Through methods such as oral histories, science communication, creative works and direct action, these projects seek to center and amplify voices that have often gone unheard and generate new approaches that build inclusive and resilient communities.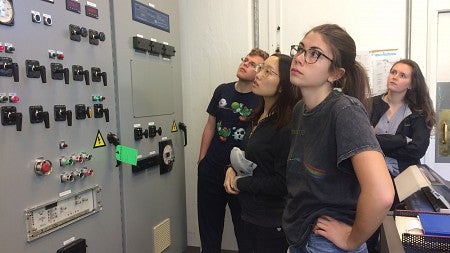 In our Sustainable Practices projects, students implement solutions that address and integrate concerns regarding environmental health, social equity, and economic success. Example projects include renewable energy, waste prevention and recycling, alternative transportation, sustainable business, and organic agriculture. 
---
How to Apply 
Apply now! The 2022-23 application deadline is Monday, 10/31/22 at 9:00 am.
Download the Environmental Leadership Program Application
The Environmental Leadership Program is open to undergraduates with at least junior standing, although priority consideration will be given to Environmental Studies and Environmental Science majors.  
Please fill out the application form and email it to Katie Lynch (klynch@uoregon.edu) and Peg Boulay (boulay@uoregon.edu). Don't forget to attach your resume. After receiving your application, Katie or Peg will email you to schedule an interview. 
---
Spring 2023 Projects 
ENVIRONMENTAL EDUCATION PROJECTS 
CONSERVATION SCIENCE PROJECTS 
Aves Compartidas 2023
Working in partnership with the Willamette-Laja Twinning Project and River Road Elementary School, this team will develop and implement activities that explore the amazing world of birds. In particular, we'll focus on the migratory birds that connect us with our partner watershed in Laja, Mexico. We'll explore how to integrate World Migratory Bird Day into our activities and how to raise awareness of the need for the conservation of migratory birds and their habitats. Previous experience birding and/or Spanish is useful, but not required.
NEW! Climate Solutions
 In partnership with UO's Soil Plant Atmosphere Lab and the Eugene Water and Electric Board, this team will participate in research examining "enhanced natural climate solutions," which are novel carbon mitigation and storage methods that leverage and maintain ecosystem processes. You will collect vegetation and soil data at a local field experiment on the artificial selection of plant and microbial communities with the goal of accelerating carbon stabilization in agricultural soils. A knowledge of soil science, microbial ecology, botany, or ecological restoration is helpful but not required.
Climate Science, Climate Justice 2023
This team will engage middle-schoolers in learning about old-growth forests, climate science, and climate justice. Your mission will be to show science in action and engage students in an interdisciplinary exploration of climate issues.  You'll implement new lessons developed at HJA as well as develop one of your own.  The team will visit classrooms and lead full day field trips to the Andrews Forest in spring term.  You'll be working in partnership with the H.J. Andrews Experimental Forest. A background in ecology, climate science and/or climate justice is helpful, but not required.
Fuels and Fires 2023
Burning by the Kalapuya peoples maintained a mosaic of oak and prairie habitats in the Willamette Valley. Since colonization by European settlers, fire suppression has led to habitat loss and degradation, as well as fuel buildup rendering forests more prone to catastrophic wildfires. In partnership with Willamalane Parks and Recreation District, this team will conduct a fuel assessment of the Thurston Hills Natural Area to help Willamalane plan strategic fuel reduction projects that also complement habitat and management objectives. You will learn about approaches to fuel management, collect data on current fuel loads, and provide management recommendations. This project will be similar to the 2022 Fuels & Fire ELP project. A knowledge of botany, forest ecology, fire ecology or environmental planning is helpful but not required.
COMMUNITY ENGAGEMENT AND JUSTICE PROJECT
Accessible Trails 2023.  This team will be working in collaboration with Eugene, Cascades & Coast, which is charged with supporting the economies of our local communities through destination marketing and at the same time protecting our natural places that are such an important part of the visitor experience. When it comes to recreation, that means matching the right trail for the right person at the right time. This team will be supporting this work by doing field research focused on evaluating access, accessibility, and amenities of various destination trails. In winter we will learn about equity, inclusion, accessibility related to outdoor recreation, and in Spring you'll conduct the field research.
Restoration and Research
With the overall goals of providing shade for Goose Creek and habitat for pollinators, ELP teams have been implementing and maintaining a riparian restoration project at an organic farm—Whitewater Ranch—since 2014. The plantings are thriving, so this team will begin transitioning the project to "free to grow" status by interplanting, removing weed mats, controlling non-native blackberry, and continuing our long-term monitoring of vegetation, pollinators and water temperature. In addition, in partnership with the UO Ponisio Lab, this team will also collect data in research plots that are examining ways to enhance pollinator populations after major disturbances such the September 2020 Holiday Farm Fire and post-fire timber harvest. This project will build upon the 2014-2022 Sustainable Farms, Riparian Restoration and Promoting Pollinators ELP teams' work. A knowledge of botany, ecology, pollinators, or ecological restoration is helpful but not required.