Our Environmental Studies curriculum draws on environment-related courses across the university, offering students a thorough interdisciplinary education. In addition to many hands-on learning opportunities, we also emphasize community-engaged learning through guest speakers, field trips, and class projects that let students work with nonprofits and businesses to create and apply solutions.
---
---
Course Highlights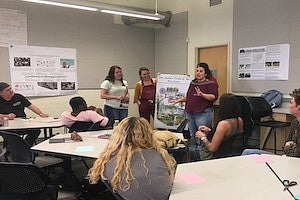 ENVS 435 Environmental Justice
Instructor: Kari Norgaard
How and why are environmental problems experienced differently according to race, gender, and class? How do different communities experience and respond to environmental problems? What do we learn about the meaning of gender, race, and class by studying the patterns of exposure and creative resistance of different communities to environmental hazards? In other words, what does the study of environmental risks tell us about racism, classism, and sexism in our nations and world today? These are some of the questions we will take up in this course.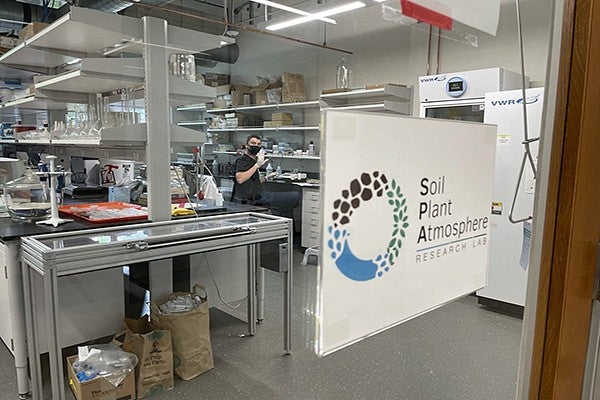 ENVS 447 Soil Science
Instructor: Lucas Silva
This course will introduce undergraduate and graduate students to the wonderful world of soils. Soils exert fundamental control on patterns and processes of plant distributions, nutrient and water cycling, and the productivity of both natural and managed ecosystems. Soils are also an important component of many current and historical environmental problems. It is also widely applicable to graduate and undergraduate students in Anthropology, Biology, Earth Sciences, Environmental Studies, Environmental Science, Geography, and Landscape Architecture, along with other majors on campus.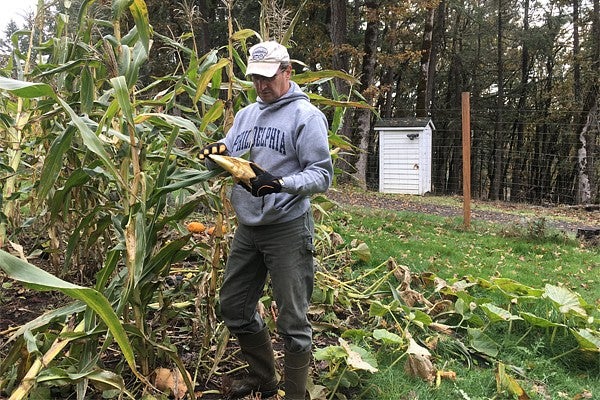 ENVS 467 Sustainable Agriculture
Instructor: Galen Martin
The purpose of the class is for students to develop an informed critique of agricultural production. We will review traditional non-industrialized, modern industrialized, modern organic, and genetically modified crops-based systems through the lens of sustainability. While holding a holistic perspective, the course examines the various material components of production systems, and food policy and food security. By course end, students will have a fundamental understanding of how food is produced, the options and constraints of producers, and the obstacles and potential for more sustainable food production systems.  
---
Projected Courses 2023-2024
Please note that course offerings may change as term schedules finalize. Additionally, the following lists only include descriptions of courses with the ENVS prefix. Please consult the UO Class Schedule, UO Catalog, and Tip Sheets for other course options. Click course name to see syllabus when available.
Fall 2023
| Course Number | Course Name | Area Major Requirement |
| --- | --- | --- |
| 202 | Intro to Environmental Studies: Natural Sciences | Area 1 |
| 203 | Intro to Environmental Studies: Humanities | Area 1 |
| 225 | Intro to Food Studies |   |
| 345 | Environmental Ethics | Area 3B: Humanities  |
| 410 | Avian Conservation | Area 3A: Life Sciences |
| 410 | Climate Justice Prison | Area 3B: Humanities  |
| 410 | Cascade Ice and Fire | Area 3B: Humanities |
| 411 | Queer Ecological Re-Imagining | Area 4 |
| 411 | Gaia Theory and Life on Earth | Area 4 |
| 467 | Sustainable Agriculture | Area 3B: Sustainable Design & Practice |
| 477 | Soil Science | Area 3A: Earth and Physical Sciences |
Winter 2024
| Course Number | Course Name | Area Major Requirement |
| --- | --- | --- |
| 201 | Intro to Environmental Studies: Social Science | Area 1 |
| 203 | Intro to Environmental Studies: Humanities | Area 1 |
| 225 | Intro to Food Studies |   |
| 345 | Environmental Ethics | Area 3B: Social Science |
| 410 | Nature in Pop Culture | Area 3B: Humanities |
| 410 | Fire, Society and Policy | Area 3B: Social Science |
| 410 | Coastal Ecology | Area 3A: Life Sciences |
| 410 | Landscape Ecology | Area 3A: Life Sciences |
| 411 | Critical Resources | Area 4 |
| 425 | Environmental Education: Theory & Practice | Area 4 |
| 427 | Environmental & Ecological Monitoring | Multiple - See Tip Sheet |
| 435 | Environmental Justice | Area 3B: Social Science |
| 450 | Political Ecology | Area 3B: Social Science |
| 459 | Water, Public Health, & the Environment | Area 3B: Sustainable Design & Practice |
Spring 2024
| Course Number | Course Name | Area Major Requirement |
| --- | --- | --- |
| 201 | Intro to Environmental Studies: Social Science | Area 1  |
| 202 | Intro to Environmental Studies: Natural Science | Area 1 |
| 203 | Intro to Environmental Studies: Humanities | Area 1 |
| 410 | Indigeneity, Place, & Cyberspace | Area 3B: Humanities |
| 410 | Unnatural Disasters | Area 3B: Humanities |
| 411 | More-Than-Methods | Area 4 |
| 411 | Plastic (R)evolution | Area 4 |
| 429 | Environmental Leadership Program (by application) | Area 5 |
| 465 | Wetland Ecology | Area 3A: Natural Science |
| 467 | Sustainable Agriculture  | Area 3B: Sustainable Design & Practice |
| 493M | Passive Cooling | Area 3B: Sustainable Design |