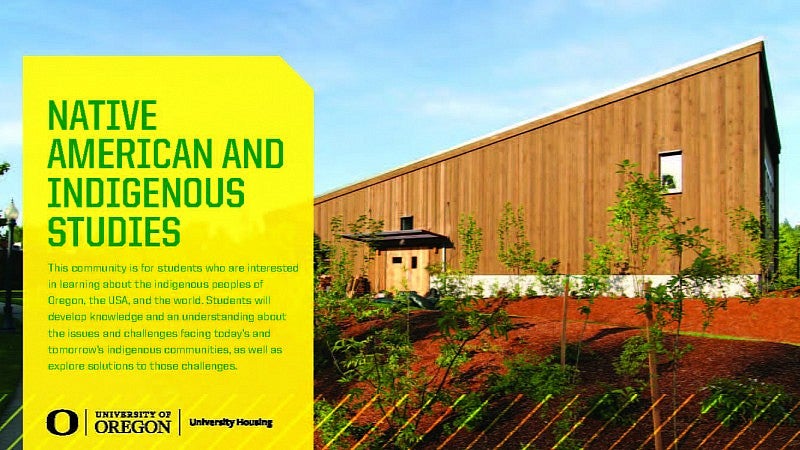 NAIS ARC
In fall 2017 we began the first ever Native American and Indigenous Studies Academic Residential Community (NAIS-ARC) at the University of Oregon. The ARC was developed by Native faculty and staff to create an academic, residential, and student support services community dedicated to indigenous intellectual, social, and cultural life, designed to introduce students to the field of Native Studies and provide a strong cohort for student success.
What is the purpose of the ARC?
This residential academic community is for students who are interested in learning about and developing an understanding of the issues and challenges facing today's and tomorrow's indigenous communities, as well as exploring solutions to those challenges. Students will expand and develop their understanding of Native American, Alaska Native, Pacific Islander, and global Indigenous peoples in an intellectually and culturally supportive space.
Why should you choose to live in this community?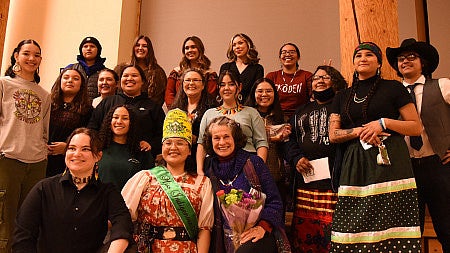 The ARC will provide a strong residential academic support system for students' academic and social needs, as well as connections to community and cultural traditions. The academic curriculum in the ARC will serve as a springboard for those students interested in the interdisciplinary minor in Native Studies. Students will interact with faculty both within and outside of the classroom, as well as interact with upper division students who share their scholarly interests. The ARC offers core courses in Native Studies (one 4-credit course per term, plus a smaller 1-credit seminar), workshops, community service opportunities, mentoring, seminars and academic counseling. There will also be opportunities for collaborations with other ARCs and groups who share similar goals and connections, including the Native American Student Union, and cultural events in the Many Nations Longhouse. The combination of curricular and co-curricular programming is designed to encourage academic and social growth among students and scholars with shared vision with the goal of nurturing both individual and community empowerment. Students also receive term-by-term advising tailored to their academic, cultural, and social needs from our Native American Adviser & Retention Specialist.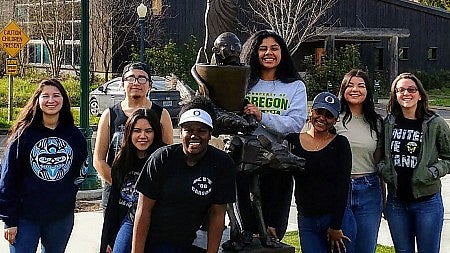 Where is the ARC located?
Most students live collectively in Kalapuya Ilihi Hall, adjacent to the Many Nations Longhouse. Others may elect to live elsewhere on campus while still participating in ARC co-curricular activities. The ARC also employs a Resident Assistant, typically a former NAIS ARC student chosen by the NAIS-ARC faculty and staff, who will act as a mentor and assist students in their success. The NAIS ARC faculty and staff also have dedicated offices and meeting spaces in this new residence hall.
Will a funding supplement be provided?
Yes, students enrolled in a federally recognized tribe will receive a small subsidy which will be applied to the cost of living in the Kalapuya Ilihi Hall. The subsidy will typically bring the cost of a standard triple room with bath and Carson meal plan in KIH in alignment with less expensive residence halls on campus. Students electing large triple rooms, double rooms, or other meal plans will incur higher costs not covered by the subsidy.
For more information on dorm configurations, meal plans, and other costs, visit https://housing.uoregon.edu/costs.
What classes will we take?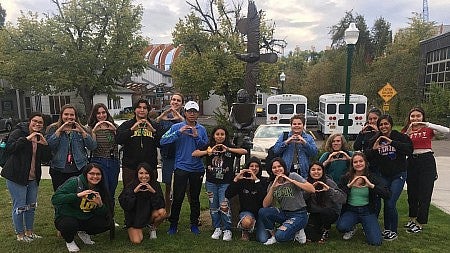 Fall 2023:
ES 256: Intro to Native American Studies (O'Neal)
ES 199: ARC Seminar (Brown)
Winter 2023:
ENG 244: Intro to Native American Literatures (Brown)
ES 199: ARC Seminar (May & Clifford)
Spring 2023:
LING 399: Languages of Oregon (TBD)
ES 199: ARC Seminar (O'Neal)
Who is eligible and how do you apply?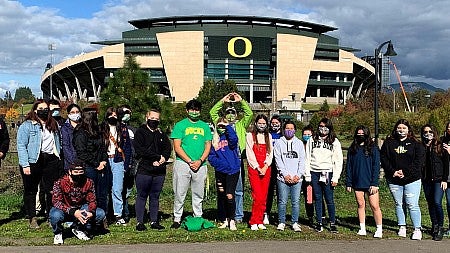 The NAIS community is for students who are eligible to live in University Housing and are willing to enroll in and complete the required courses. Students also participate in co-curricular activities (workshops, events, service learning, etc.) and are encouraged to serve as a mentor or mentee through the peer mentoring program.
First – Apply for University Housing and select Native American and Indigenous Studies on the "Community Preference" section.
Second – Complete the "Community Questions" section on the housing application. This will ensure that the faculty directors will be able to review your application to live in this community. The faculty directors will be in contact with you before summer to determine your placement in this community.
All details about the ARC can be found both on the Housing website and the Native Studies website.
---
NAIS ARC in the News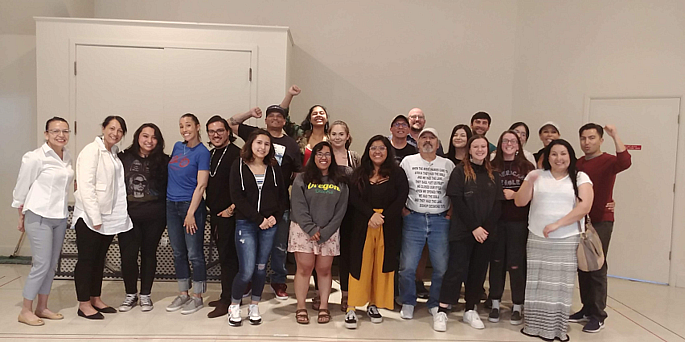 The Daily Emerald: https://www.dailyemerald.com/2018/02/26/2493411/
The Oregon Quarterly: https://around.uoregon.edu/oq/closer-to-the-kalapuya
Check out the Indigenous UO Map–an ongoing collaboration between the NAIS ARC, the Northwest Indian Language Institute, and UO GIS Mapping–on the UO App or the UO Maps website!
Follow us on Facebook, Instagram, and Twitter!
---
Campus Resources for Native American Students
More information about the numerous resources, programs, centers, and other opportunities can be found at the Native American Admissions Page: https://admissions.uoregon.edu/freshmen/nativeamerican
---
If you have questions or want more information please contact us at naisarc@uoregon.edu.
Brian Klopotek, Co-Faculty Director (klopotek@uoregon.edu) 541-346-0903
Kirby Brown, Co-Faculty Director (kbrown@uoregon.edu) 541-346-5819
Jennifer O'Neal, Co-Faculty Director (joneal@uoregon.edu) 541-346-1899
Norma Trefren, CMAE Native American Retention Specialist & Adviser (ntrefren@uoregon.edu), 541-346-9831
Katie Staton, Many Nations Longhouse Steward (kstaton@uoregon.edu), 541-346-6262
Olivia Iverson, Native American and Indigenous Recruitment Coordinator (olivias.admissions@uoregon.edu), 541-346-1219
Theresa May, Co-Faculty Director (tmay33@uoregon.edu)
Marta Lu Clifford, Co-Faculty Director, Elder-in-Residence, Academic Auntie