Geography offers a wide range of courses that delve into human relationships with the environment and the analysis of systems that produce the variety of places in the world around us. Geographers have a tradition of field work, which can be difficult in a classroom setting. Our courses ask you to work with real data about real situations around the world, giving you a chance to understand the processes shaping places, from the climate to politics, geomorphology to environmental and social injustice.
---
The University of Oregon course catalog offers degree plans and a complete list of undergraduate and graduate courses in the Department of Geography.
---
Featured Courses
Geography offers a wide range of pathways to explore the processes shaping places on our planet. The following course have been popular with students who are interested in the pressing issues of our time and some of the tools with which we can understand them.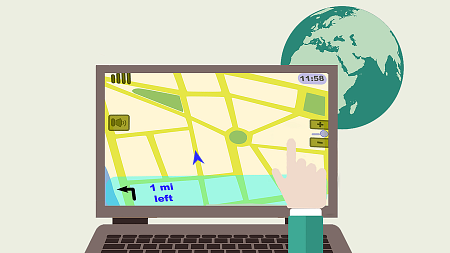 GEOG 181 Our Digital Earth
Instructors: Sarah Cooley, Amy Lobben, Johnny Ryan
Explore the wide variety of data and techniques geographers can use to analyze systems and processes. This course introduces spatial data, GIS, remote sensing, cartography, and how anyone can make an app to collect and display spatial data. This is a powerful class to understand the democratization of data that is used to make important decisions. This class also counts for Social Science Core Ed requirement. (No pre-reqs)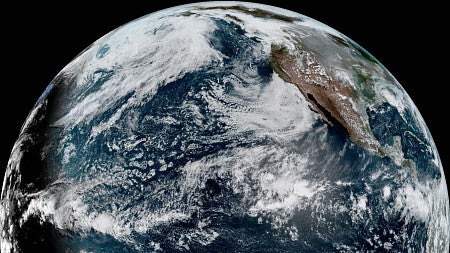 GEOG 321 Climatology
Instructor: Patrick Bartlein
The world, both people and places, is now being severely impacted by climate change, but the scientific understanding of how climate operates remains widely unknown by the general public. This class introduces students to the main drives of the earth's climate, how we can study climate from the distant past to help inform our understanding of the current trajectories of climate change. This class count for a Science Core Ed requirement (Pre-req: GEOG 141)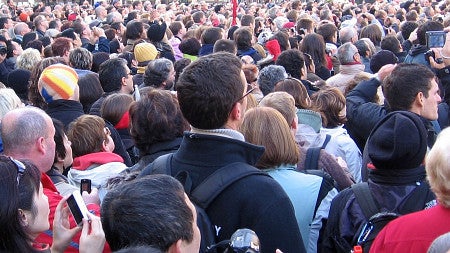 GEOG 341 Population and the Environment
Instructor: Shaul Cohen
One of the defining narratives of our time has been the threat of overpopulation. As population clocks tick upward, many 'solutions' to the problem of too many people have been proposed. From China's One Child Policy to actually encouraging people in some European countries to have more children. What is at the core of this hypothesis and what are other ways we can understand the relationship with the people and the planet that can help us better understand the impacts on Earth's finite resources? This class counts as a Social Science Core Ed requirement (No pre-reqs).
---
Upcoming Courses
The provisional 2023-2024 course plan is below. Please look at the codes at the bottom of the page to understand specifically what each course can count towards within the Geography and Spatial Data Science and Technology majors, the Geography and the Climate Studies minors, and for the graduate program. Note that you cannot use the same course for two requirements within the same major. As always, this schedule is provisional and subject to change.
Fall 2023
Winter 2024
Spring 2024
---
Fall 2023
| Number | Course Title | Instructor |
| --- | --- | --- |
| 141 | Natural Environment | Fonstad |
| 201 | World Regional Geography (WEB) | McLees |
| 281 | The World and Big Data | Luan |
| 323 | Biogeography | Gavin |
| 341 | Population & Environment | Cohen |
| 393 | Data-Driven Cartography | Fish |
| 391 | Social Science Research & Inquiry | TBD |
| CAS | Career Readiness | McLees/Amtma |
| 410L |   | nn |
| 4/533 | Fire & Natural Disturbances | Gavin |
| 4/542 | Urban Geography (Hybrid) | McLees |
| 4/565 | Environment and Development | TBD |
| 4/581 | GlScience I (Hybrid) | Fish |
| 4/582 | GIScience II | Kohler |
| 4/585 | Remote Sensing I | TBD |
| 490 | Drones & Mapping | Fonstad |
| 4/594 | Spatial Analysis | Luan |
| 608 | Graduate Student Workshop | Cohen |
| 612 | Theory & Practice in Geography II | Su |
Winter 2024
| Number | Course Title | Instructor |
| --- | --- | --- |
| 141 | Natural Environment | Gavin |
| 142 | Human Geography: Our Globalized World (WEB) | McLees |
| 181 | Our Digital Earth | Lobben |
| 199/250 | Geography of Adventure | Kohler |
| 202 | Geography of Europe | Murphy |
| 321 | Climatology | Bartlein |
| 342 | Globalization & Development (WEB) | Buck |
| 360 | Watershed Science & Policy | McDowell |
| CAS 420 | Career Readiness | McLees/Amtmann |
| 4/521 | Advanced Climatology | Bartlein |
| 4/523 | Advanced Biogeography | Gavin |
| 4/541 | Political Geography | Murphy |
| 4/568 | Food Systems (Hybrid) | McLees |
| 4/581 | GIScience I (Hybrid) | Fish |
| 4/582 | GIScience II | TBD |
| 4/585 | Remote Sensing I | TBD |
| 4/591 | Advance GIS: Python | Kohler |
| 4/593 | Advanced Cartography | Fish |
| 611 | Theory & Practice in Geography I | Walker |
| 613 | Thesis writingworkshop | Lobben |
Spring 2024
| Number | Course Title | Instructor |
| --- | --- | --- |
| 141 | Natural Environment (WEB) | TBD |
| 142 | Human Geography: Our Globalized World | TBD |
| 181 | Our Digital Earth | Cooley |
| 199 | The Global Drug Trade | Sy |
| 208 | Geog of the US & Canada (Hybrid) | McLees |
| 282 | Programming for SDS | Ryan |
| 322 | Geomorphology | Fonstad |
| 361 | Global Environmental Change | TBD |
| 343 | Society, Culture, and Place (Hybrid) | McLees |
| 391 | Career Readiness | McLees/Amtmann |
| 4/544 | Cultural Geography (Inside-Out course) | Cohen |
| 4/561 | Environmental Alteration | TBD |
| 4/581 | GlScience I | TBD |
| 4/584 | Topics: GIS & Public Health | Luan |
| 4/586 | Remote Sensing II | TBD |
| 4/590 | Topics: Drones & Mapping | Lamping |
| 4/590 | Topics: Web Mapping | Merson |
| 4/590 | Topics: Geospatial Data Applications | Ryan |
| 4/597 | Qualitative Methods | Johnson |
| 607 | GIScience | Luan |
| 608 | Graduate Student Workshop | TBA |